The Many Advantages of Bach Flower Remedies
By Theda Renee Floyd, PhD, RN, HHP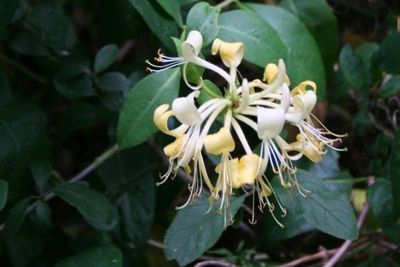 Bach Flower Essence Therapy was developed in the 1920s and 30s by British researcher and physician, Dr. Edward Bach (1886-1936). Bach eventually turned from the allopathic medicine of his day to that of homeopathy. It was his understanding that the treatment of symptoms was not adequate to heal disease; rather, one needed to get to the root cause to truly restore health. He increasingly observed the psychic components in physical illnesses, and understood that these related to certain personality types and specific negative reaction patterns. Bach decided to concentrate fully on studying the different personality types or soul qualities and finding the corresponding healing plants. Together with his assistant, Nora Weeks, he discovered and prepared the thirty-eight Bach Flower Remedies and Rescue Remedy.
The harmonious energy frequency is the particular energy wavelength of a soul quality of a plant or a person. Each Bach Flower Remedy embodies a certain soul quality or particular energy wavelength. Each of these plant based soul qualities is in tune with a certain soul quality in a person—a certain frequency in the human energy field. These soul quality states described by Bach are archetypal behavior patterns of human nature; they are not symptoms of illness. The human soul contains all thirty-eight soul qualities of the corresponding Bach Flowers.
Various aspects of the Bach Flower System differentiate it from other healing systems in the West. The Bach Flower Remedies are included among the subtle methods of healing, similar to the classical homeopathy of Samuel Hahnemann, in that they do not act at the level of the physical body, but at the more subtle etheric levels that directly influence the human energy system. There are numerous advantages of using Bach Flower Remedies over many other therapeutic methods:
v Their methods of production are simple and natural: Bach's simple. natural means of production differ from all other methods known to Western medicine. The methods he developed—the sun method and the boiling method—release the healing energy of the flowers from their material form, which allows this energy to bind to the substance of water, the carrier medium. This actually produces a much more stable energetic pattern than those found in homeopathic remedies (Scheffer, The Encyclopedia 16).
v Taking them is easy: Therapy with the Bach Flower Remedies is easy. Once a remedy is selected, it may be taken in more than one way. The usual method of taking the remedies is orally, either in a drink or from the stock bottle. It is also possible to receive the healing benefits of the remedies from a bath, compress, or cream as with Rescue Remedy. Such versatility of administration ensures that the remedies may be used in all situations regardless of age or capability.
v They are suitable for self-healing: Their harmless effects make Bach Flower Remedies a risk free system to use in self-healing. The soul quality states described by Bach are archetypal behavior patterns of human nature; they are not symptoms of illness. Therefore, it is not necessary to undergo extensive medical training to be a successful practitioner of Bach Flower Therapy. Characteristics and abilities that are much more important are maturity combined with a clear grasp of the human condition, perceptiveness, sensitivity, and an honest compassion for others. Bach's vision was that the flower essences would someday find their way into the medicine cabinet of every household.
v They produce no side effects: Bach Flower Essences work as subtle, nonmaterial impulses. They communicate information through specific, high vibrations that stimulate our emotional and mental self-healing forces. One of the greatest advantages of Bach Flower Remedies over many other therapies is that there are no known side effects or negative reactions and as such flower remedies can be used safely by everyone—babies, children, adults including pregnant women, animals, and plants. There is no worry of what might occur if too much or a poorly selected remedy should be taken.
v They are compatible with all other forms of therapy: The Bach Flower Remedies will act harmoniously with any other form of therapy, particularly holistic therapies. Being completely harmless, when a remedy is poorly selected and not actually suited, the body simply absorbs it with no effect as only those remedies with the soul potentials needed are effective. This enables the flower remedies to be used successfully in combination with other forms of treatment such as homeopathy, prescription drugs, psychotherapy, or other allopathic and complementary therapies, without concern of interference.
v They often augment other therapies: In many cases, Bach Flower Remedies have been known to augment other therapies. The actions of high homeopathic potencies are intensified and psychotropic drugs are usually gradually discontinued, at the individual's own request, when flower remedies are given in conjunction. Psychotherapy may be accelerated and the treatment of psychosomatic conditions can be greatly shortened with flower therapy. In the treatment of chronic conditions, the addition of flower remedies have often brought about a crucial positive turn of events (Scheffer, Bach 214-15).
v They help us to avoid physical illness: Bach Flower Remedies do not act at the level of the physical body, but at the more subtle etheric levels that directly influence the human energy system. Therapeutic needs are determined with reference to observable negative soul states rather than physical symptoms, which are actually very late indications of imbalance. The flower remedies then work directly with the body's energy system to restore equilibrium. With distortion on an etheric level corrected, distortion on the physical level will also be corrected and possibly even prevented if the subtle vibrational healing is initiated early enough. In this way, physical illness may be avoided as the remedies are able to aid in healing on an etheric level before physical signs and symptoms develop.
v They enable us to overcome a fear of illness: "Heal Thyself" is at the heart of the Bach philosophy, for it is the divine healing power within us that permits and enables healing. Edward Bach calls upon each person to take responsibility for their own life and health. He emphasized that all human beings hold within whatever they need for their own healing. With this knowledge and Bach Flower Therapies we become able to overcome a fear of illness as we restore balance and enable healing within ourselves.
v They free us to live our own truth: Bach Flower Essences help us to transcend the conditioning of our past, our culture, our society, and the media. Spiritually, they clear the path for the Higher Self to be the driving force in our lives, empowering and assisting us to recognize, speak and be who we are, who we want to be, and who we are meant to be—essentially to express our will. This frees us to live our own truth, a truth governed by the higher perspective of Self, enabling us to cocreate our lives and our realities.
v They enable us to see ourselves as part of the whole: Bach's approach is rooted in a frame of reference that rises above the boundaries of a single human personality and extends into the higher spiritual dimensions. The remedies have the optimal vibration for their specific soul quality or harmonious energy frequency, and they work through entrainment to correct the corresponding but distorted and negative soul state of the individual. In this more harmonious state, the individual is then better able to entrain with the greater whole. In this way, we are better able to grasp both the unity and simplicity that underlie our complex world, and have the fundamental readiness to see ourselves as part of the whole, a part that in the final instance is governed by a holistic creative principle.
The Bach Flowers are pure, harmonious energy frequencies that will never have negative effects; however, symptoms may be temporarily intensified following the initiation of Bach Flower Therapy in a response similar to that known in homeopathy as aggravation. This means that the individual may feel worse for a short time as toxins are released during a clearing process often referred to as a healing crisis. Such a clearing process is a positive indication that equilibrium is being restored. It is impossible to induce an artificial healing crisis with the Back Flower Remedies, for their energy merely supports the Higher Self, the divine healing power within us that permits and enables healing.
It was Bach's contention that in order for health to exist, there must be perfect harmony between body, mind, and spirit. It was this harmony alone that needed to be re-established for any lasting healing to be effected. To this end, he developed the flower essences to release the emotional and mental disharmony within us—to facilitate being true to our soul's purpose once again; thereby, restoring our system's equilibrium. It is not possible for us to be ill if we are in harmony with our true nature. Bach taught that it does not matter whatever condition is behind our trouble or whatever fault there is in our nature because the flower remedies will help us to correct the fault and heal the root cause of the illness restoring physical and mental health.
Works Cited
Scheffer, Mechthild. Bach Flower Therapy. Rochester: Healing Arts Press, 1988.
---. The Encyclopedia of Bach Flower Therapy. Rochester: Healing Arts Press, 2001.